IrelandWeek to Celebrate the Immortal Words of James Joyce Set to the Music of Famed Composer Brian Byrne
Goldenhair, the live performance, to be led by Brian Bryne with renowned Irish performers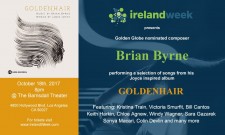 LOS ANGELES, September 25, 2017 (Newswire.com) - IrelandWeek (www.IrelandWeek.com) is excited to present Goldenhair by Golden Globe-nominated composer, Brian Byrne with an ensemble of iconic Irish and American performers at the Barnsdall Theater, 4800 Hollywood Blvd, Los Angeles, Wednesday October 18th, at 8 p.m.  Graciously sponsored by Mitch O'Farrell, Councilmember, 13th District, Los Angeles City Council.
​
IrelandWeek's Goldenhair the live performance will be led by Brian Bryne and include; American singer/songwriter Kristina Train, Irish actress Victoria Smurfit, keyboardist/singer/songwriter/arranger/producer Bill Cantos, Irish musician/singer/songwriter & lead performer in Celtic Thunder Keith Harkin, Irish singer/songwriter and original member Celtic Woman Chloë Agnew, vocalist Windy Wagner, American jazz musician and singer Sara Gazarek, Irish actress Sonya Macari and renowned Irish musician and singer Colin Devlin.
Tickets are available now at https://www.eventbrite.com/e/ireland-week-presents-goldenhair-live-by-brian-byrne-tickets-37427418416
Byrne's newest album Goldenhair was released on Node Records this year on Bloomsday (June 16th), the annual holiday celebrated worldwide in honor of James Joyce, and the album quickly hit the top of Billboard's World Music Album Chart in Ireland. The album features 21 brand new songs composed and arranged by Byrne set to the words of modernist Irish poet and novelist, James Joyce. It features a stellar cast of artists including Judith Hill, Glenn Close, Julian Lennon, Kurt Elling, Sara Gazarek, Curtis Stigers, Kate McGarry, Kristina Train, Declan O' Rourke, Cara Dillon, Jack Lukeman and more as well as The RTE Concert Orchestra.
"I hope listeners hear something that moves them or makes them stop for even a minute to hear the beauty in the words of Joyce's words," shares Byrne. "This was James Joyce as a very young man, writing in a very different style that he became famous for, so if it were to open the door to James Joyce's works, like it did for me, then that would be nice."
IrelandWeek is a week of conference panels and culture festivities from October 16-21, 2017 in Los Angeles, California. In association with Ireland's Department of Foreign Affairs and Trade, The Irish Film Board, Culture Ireland, Creative Ireland, IDA Ireland, Tourism Ireland, Enterprise Ireland, IrelandWeek's focus is to bring Ireland to the world, and the world back to Ireland.  Sponsors of the week include Aer Lingus, The Ireland Funds, The California Irish Legislative Caucus and Kensington Caterers.  Supporters of the project include Music From Ireland, the American Chamber of Commerce Ireland, The City of Los Angeles, and many more.  The official media partner of Ireland Week is Irish Times Abroad.
CONNECT353, the conference component of IrelandWeek, will take place October 19 at LA Live Regal Theatre and will have a series of panel discussions and keynote speeches ranging from film, TV, animation, technology, gaming, music, culture, arts, tourism, Brexit, and Star Wars: The Last Jedi in Ireland featuring the producer and director.
With enhanced connectivity between Los Angeles and Dublin, IrelandWeek aims to capitalize by creating a two-way international superhighway. Ireland displays its talents abroad while encouraging inward investment, tourism, jobs and cultural awareness.
Aer Lingus offers non-stop flights from Dublin to Los Angeles and has provided a discount code for people traveling to Los Angeles from Ireland to IrelandWeek - discount code  IRLLAX17.
To get tickets and updates on events please go to www.IrelandWeek.com 
ABOUT BRIAN BYRNE
Originally hailing from Ireland, Brian Byrne is a Golden Globe-nominated and IFTA award-winning film composer and songwriter. In addition to scoring Zonad (2009), Albert Nobbs (2011) and Boychoir (2014), Byrne has co-written songs for artists including Josh Groban, Kelly Clarkson, Sinead O'Connor, Barbra Streisand and has arranged strings for Katy Perry, Pink and Bono. Byrne also composed the music for Riverdance's recent show "Heartbeat of Home." In 2008, Byrne was awarded the Steve Kaplan Scholarship from ASCAP's Film and Television Scoring Workshop. An accomplished pianist and conductor, Byrne has performed and conducted extensively.  For more information please visit www.brianbyrnecomposer.com 
ABOUT MITCH O'FARRELL
Mitch O'Farrell has served as Councilmember of the 13th District since July of 2013. Mitch is passionate about safe neighborhoods and improving the quality of life in Atwater Village, East Hollywood, Echo Park, Elysian Valley, Glassell Park, Historic Filipinotown, Hollywood, Little Armenia, Mid-Wilshire/Koreatown, Thai Town and Silver Lake.  Since taking office in 2013, Mitch has made a strong impact on children and family safety in our neighborhoods, improved commercial corridors while enhancing pedestrian and bicycle safety, and has set the Los Angeles River on a path to environmental restoration and sustainability by pioneering the first permanent revenue stream for long-term improvements. He is reforming City policy to help small, neighborhood-serving businesses and collaborating with the entertainment industry to make sure we can grow our signature industry and the good paying jobs that come with it.  For more information please visit http://cd13.lacity.org/ ​
ABOUT THE DEPARTMENT OF FOREIGN AFFAIRS AND TRADE
The Department of Foreign Affairs and Trade focuses on serving the Irish public, both at home and abroad. We provide a range of services to Irish citizens and work hard to ensure the promotion and protection of Ireland's interests in the world, contributing to international priorities such as peace, security and the eradication of poverty and hunger.  For more information please visit www.dfa.ie
ABOUT THE IRISH FILM BOARD
The role of Bord Scannán na hÉireann/the Irish Film Board (IFB) is the national development agency for Irish filmmaking and the Irish film, television and animation industry, investing in talent, creativity and enterprise. The agency supports writers, directors and production companies across these sectors by providing investment loans for the development, production, and distribution of film, television and animation projects. For more information please visit http://www.irishfilmboard.ie
ABOUT CULTURE IRELAND
Culture Ireland promotes Irish arts worldwide. We create and support opportunities for Irish artists and companies to present and promote their work at strategic international festivals and venues. We develop platforms to present outstanding Irish work to international audiences, through showcases at key global arts events, including the Edinburgh Festivals and the Venice Biennales. For more information please visit http://www.cultureireland.ie
ABOUT CREATIVE IRELAND
Creative Ireland is a culture-based programme designed to promote individual, community and national well-being. The core proposition is that participation in cultural activity drives personal and collective creativity, with significant implications for individual and societal well-being and achievement. For more information please visit https://creative.ireland.ie
ABOUT IDA IRELAND
Ireland's inward investment promotion agency, the IDA, is a non-commercial, semi-state body promoting Foreign Direct Investment into Ireland through a wide range of services. We partner with potential and existing investors to help them establish or expand their operations in Ireland. For more information please visit http://www.idaireland.com
ABOUT TOURISM IRELAND
Tourism Ireland is responsible for marketing the island of Ireland overseas as a holiday and business tourism destination. We deliver world class marketing programmes in 23 markets across the world and reach a global audience up to 600 million each year. Targeted marketing activity includes advertising online, on TV and outdoor sites, in cinemas and in newspapers and magazines, eMarketing, overseas publicity, co-operative marketing with carriers and other partners and promotions to the travel trade and consumers.  For more information please visit https://www.tourismireland.com
ABOUT ENTERPRISE IRELAND
Enterprise Ireland is the government organisation responsible for the development and growth of Irish enterprises in world markets. We work in partnership with Irish enterprises to help them start, grow, innovate and win export sales in global markets. In this way, we support sustainable economic growth, regional development and secure employment. You can find detailed information on Enterprise Ireland's activities, strategy and performance in our Reports and Publications.  For more information please visit https://www.enterprise-ireland.com
ABOUT MUSIC FROM IRELAND
Music From Ireland is the Irish music export office run by First Music Contact in partnership with Culture Ireland which funds and presents the Irish showcases at large international music conferences. For more information please visit http://www.musicfromireland.org
ABOUT THE O'NEILL GROUP
The O'Neill Group Inc. (ONG) is a full-service Conference, Event and Meeting management company specializing in producing high-quality world-class events for corporations and nonprofits both in the US and internationally with a particular emphasis on Ireland operating since 1999. For more information please visit www.the-oneillgroup.com
Join the conversation – tweet the team and they will tweet you back!
@IrelandWeek #IrelandWeek
PRESS:                                                         
Popular Press Media Group (PPMG)
IrelandWeek@ppmg.info
310-860-7774 Office
SOCIAL MEDIA LINKS:                              
https://www.facebook.com/IrelandWeek
https://www.twitter.com/IrelandWeek 
https://www.twitter.com/Connect353
For sponsorship opportunities                 
sponsors@irelandweek.com
For additional information on IrelandWeek:   
buzz@irelandweek.com
Source: IrelandWeek
---
Categories: Music, Trade and Commerce, Arts and Entertainment
Tags: Bill Cantos, Brian Bryne, Cara Dillon, Celtic Thunder, Celtic Woman, Chloë Agnew, Colin Devlin, Glenn Close, Goldenhair, James Joyce, Julian Lennon, Victoria Smurfit
---